Tamás Szabados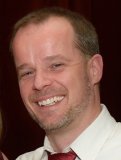 I was born in Hungary in 1971, where I lived, studied and worked until 2013. I graduated in Economics, later I worked as a businessman in different functions at various size of businesses.
During my studies in The Netherlands I met my first wife, we lived together for over 15 years in Hungary. We also studied Principles of Life together, however some issues we were not able to solve together therefore we decided to divorce at the end of 2012. Following this divorce I moved to the Czech Republic in 2013 to live together with my new partner, Katarína, whom I married.
I have two daughters, Romi (2003) and Natali (2005), my new wife has two boys, so we have a lively environment when all kids are with us. I started to study Principles of Life in Hungary in 2007 as I was not satisfied with my life before. I find Principles of Life not just as a very effective tool to solve my everyday issues (health issues, kids, relationships, work issues, etc), but basically a "default setup" how I look at life, how I approach my life, my relationships. This approach is sometimes not comfortable at all, it requires an inner strength to face reality, how things are really inside of me (my hidden motivations, values), to break down my image(s), but my experience is that it has always paid back.
Both from my private life as well as my professional experience I have started mapping the cultural differences (mostly with European nations), how influential the national (and sometimes the religious) characteristics can be.
I speak fluent English and Hungarian, good Dutch, German and Czech too. I live in Prague now, although as I travel often to Hungary I can meet in Hungary too and I can have consultations via skype too.
---
Mobil: +420-604-298-622
E-mail: szabados@principy.cz